Commercial Solutions
All commercial industries can benefit from Cobra's industry-leading lineup of professional-grade CB and two-way radios, power inverters, and dash cams.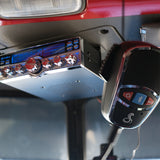 Professional CB Radios
Crystal-clear communication is vital for professional drivers, helping to keep them informed and aware. Cobra CB radios have been the #1 choice for professional drivers for decades for the simple reason that we provide reliable, innovative CB radios that help professionals drive smarter and safer.

Our CBs offer handsfree communication with Bluetooth® connectivity, Rewind-Say-Again® to replay the last 10 seconds, and other advanced features.

Complete your communication solution with a Cobra CB radio antenna.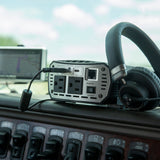 Power Inverters
When your business takes you on the road or to a jobsite, you need power you can trust that travels with you. Cobra power inverters range from 400W to 3000W, allowing you to find just the right size for your needs. Carry a heavy-duty power inverter in your truck to keep power tools working, or choose a Pure Sine Wave inverter to power CPAP machines and other sensitive electronics.

We've incorporated innovative features into Cobra power inverters, including USB ports that let you quickly charge your devices and multiple GFCI AC outlets to easily and safely power your appliances.

All Cobra power inverters have Pentagon Protection safety features built in and come with an industry-leading 2-year warranty for your peace of mind.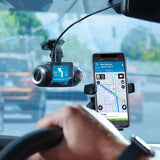 Smart Dash Cams
Help keep your employees and your vehicles protected while on the road with Cobra smart dash cams. With options including front and rear cameras and in-cabin recording, you can capture, store, and share videos with ease. Dash cam videos can even be used as evidence for insurance claims, in many cases. Plus, studies show that having a camera inside a work vehicle helps drivers to be more aware and alert.

If you have multiple vehicles and dash cams, our companion Drive Smarter® app can help you manage your fleet. Cobra dash cams give you the benefit of built-in GPS, dual-band Wi-Fi, and Bluetooth® connections. An SD card is also included.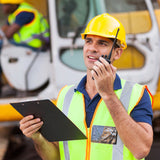 Two-Way Radios
Cobra's extensive lineup of business walkie talkies ensures clear communication between teams. Whether it's inside a warehouse, retail environment, or other commercial setting, Cobra two-way radios give you crystal-clear sound, long run times, and communication privacy.

Easy to use and durable for the most demanding conditions, you'll find the right commercial two-way radios to meet your needs for years to come.
Get Your Business Benefits Today
Our team of product experts can help you find the best solution for your company. Fill out the form and a Cobra representative will contact you shortly.
Or call us: 513-870-8563
Monday-Friday 8:00 AM-4:00 PM EST
For Fleet Sales installation and support contact Sales: 1-800-964-3138
For strategic partnerships and consultation contact Mark Karnes: 847-778-9655